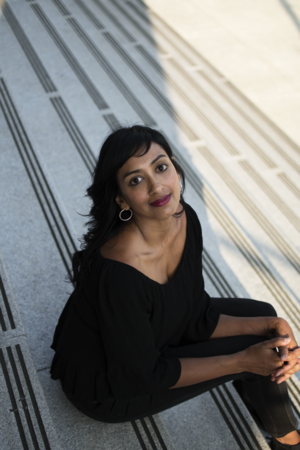 Samantha Rajaram is the author of THE COMPANY DAUGHTERS, a historical novel inspired by events during the Dutch golden age. She is represented by Carrie Pestritto at the Laura Dail Literary Agency.
Her essays and short fiction have been published in Catamaran Literary Reader and India Currents, and she was a contributor to Our Feet Walk The Sky, the first South Asian-American anthology published in the US. She was both a 2018 Pitch Wars mentee and a 2019 Pitch Wars mentor.
She spent most of her childhood in Gillette, Wyoming, where she and her family were the first Indian-Americans to live in the community. She received her B.A. in English from UCLA and her M.A. in English from the University of Pennsylvania, where she studied slave narrative and African-American literature. She also holds a law degree from U.C. Hastings College of the Law in San Francisco; while in law school, she focused on social justice and international human rights law with a focus on female sex trafficking.
She currently teaches composition at Chabot College in Hayward, California, and she lives in the California Bay Area with her three children.